This dish is very healthy because a bunch of spinach for 2 servings are layered in sliced pork loin. The stuffed pork cutlet is very popular in Japan because they're not only delicious but also healthy. You can enjoy the texture of crispy spinach and juicy pork loin. The melty cheese flavor the dish. You can cook it easily with simple ingredients.
Prep Time20 mins
Cook Time40 mins
Total Time1 hr
The batter of pork cutlet
1
Boil the spinach (You can check the recipe of it from the ingredients, and show the steps 1-14), and cut it in half.
2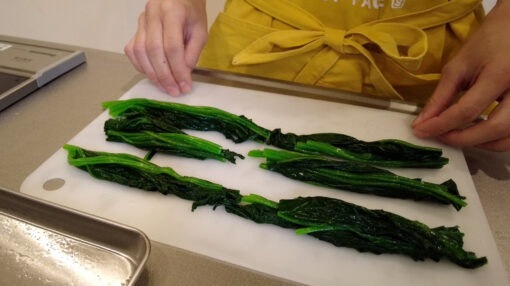 Squeeze them. Divide them into 6 equal parts, and set aside.
3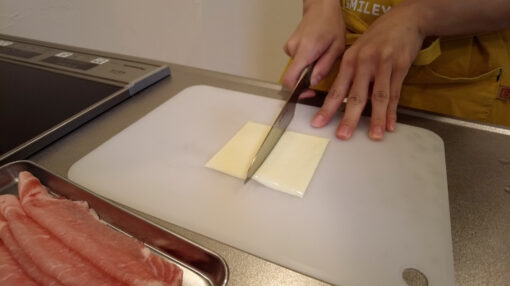 Cut all of the sliced cheese in half, and set aside.
4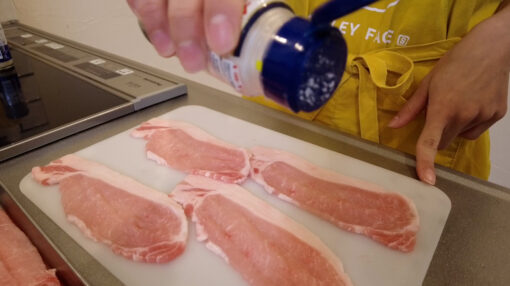 Season each sliced pork with some salt and some white pepper, and set aside.
5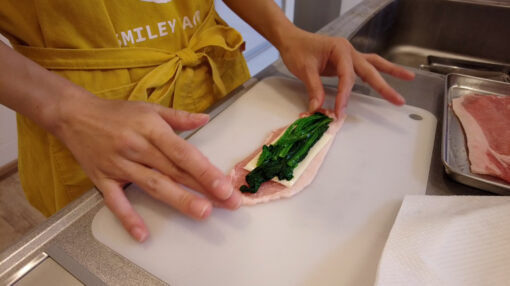 Layer one sliced pork, one piece of cheese and one part of spinach in order. Smooth a layer flat. When you cut the cutlet, the cross section will be good.
6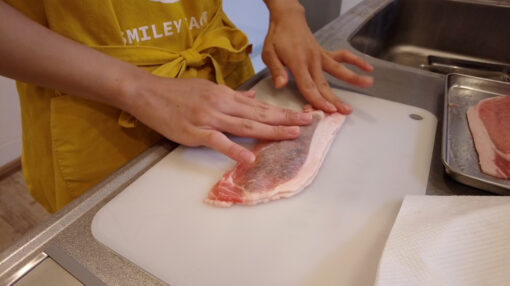 Repeat that two times. To make one pork cutlet, You need 4 sliced pork loin, 6 pieces of spinach and 3 sheets of half cut sliced cheese. When layering, push the edge of the sliced pork, and let out the air of it.
7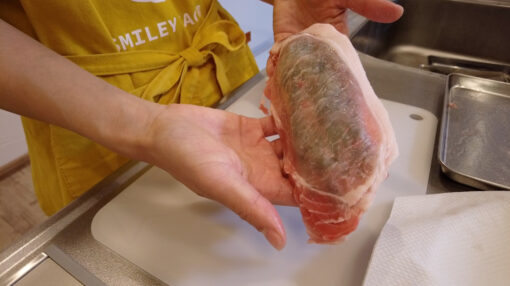 To make another cutlet, repeat steps 5-6 with the remaining ingredients.
8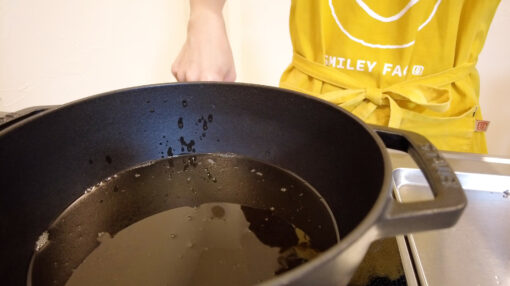 Put the oil enough to cover the cutlet, and heat the oil to 170 degrees.
9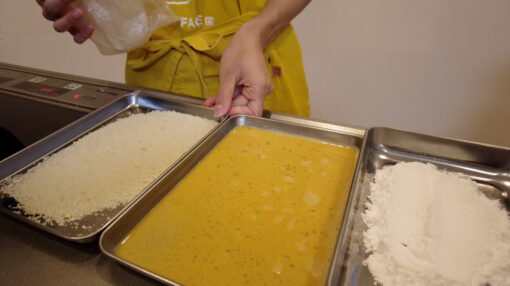 Place rice flour, beaten egg and bread crumbs in three shallow dishes (If you want to make the cutlet healthier, put breadcrumbs into a plastic bag, and crush them into fine powder with a rolling pin).
10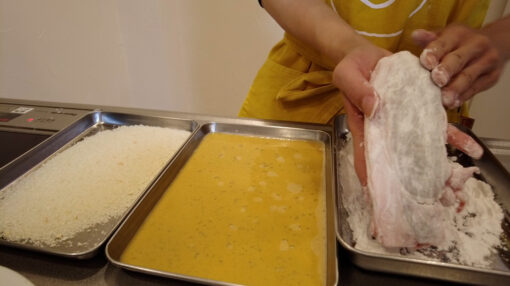 Coat the pork with the rice flour. Coat the sides of pork well. Get rid of the excess powder with your hands.
11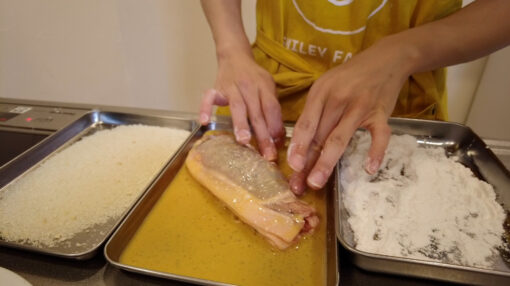 Add the pork into the beaten egg and coat it.
12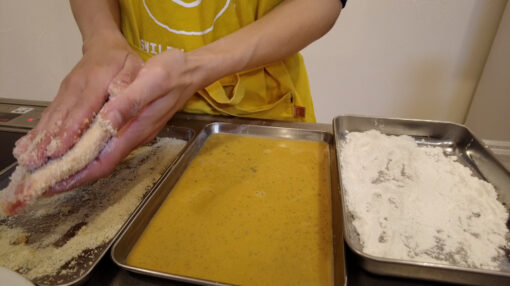 Finally, add the cutlet into the bread crumbs, and cover the pork completely. Lightly press the breadcrumbs onto the pork, then place it aside. Repeat with the remaining cutlet.
13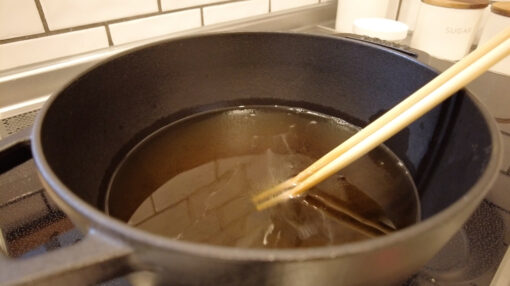 Make sure that the heat level is right. When you put the chopsticks to the oil, the small bubbles come out constantly from the whole chopsticks. If you can make sure the state, it's ready to deep-fry.
14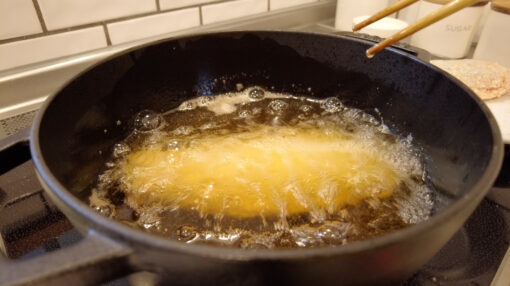 Deep fry one by one. When the surfaces harden, turn over a couple of times, and cook for 6.5 Minutes in total. During that time, skim the scum from oil. It can help to keep the appearance of the cutlet beautiful.
15
Make sure that the cutlet turns golden in color, and the surfaces are crispy, drain the oil, and put it on paper towels.
16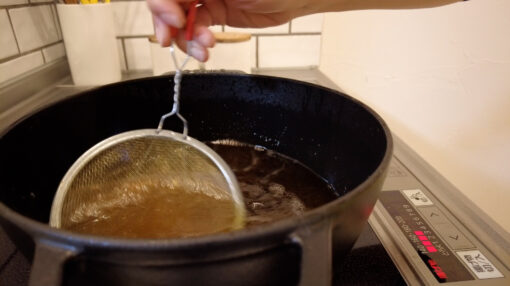 Remove the excess breadcrumbs from oil.
17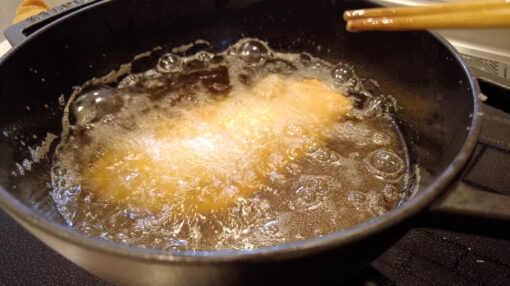 Deep fry another pork in the same way.
18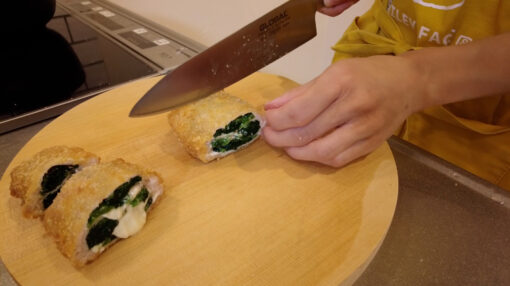 Cut the fried pork into 4 pieces straight. Cutting straight leads to a good food presentation.
19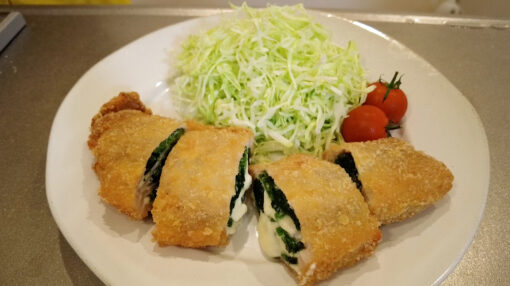 Dish up with some shredded cabbage and cherry tomato.