This salmon gratin is Japanese style because of using soy milk and miso. There are two layers of white sauce with salmon and spinach. Between them, there are sliced potatoes. I substitute wheat flour with a little rice flour. The gratin is healthy and hearty meal for dinner.
Prep Time20 mins
Cook Time1 hr
Total Time1 hr 20 mins
The ingredients of white sauce
Prepare the spinach
1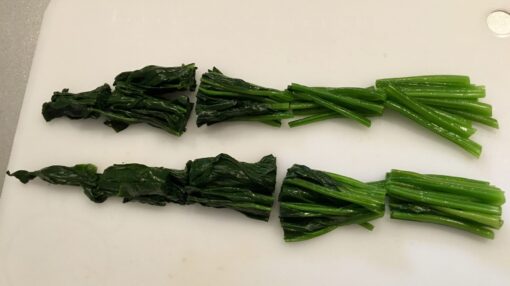 Boil the spinach (You can check the step of it from the ingredients, and show the steps 1-14), and cut it into 3-4cm pieces.
Cut the ingredients
2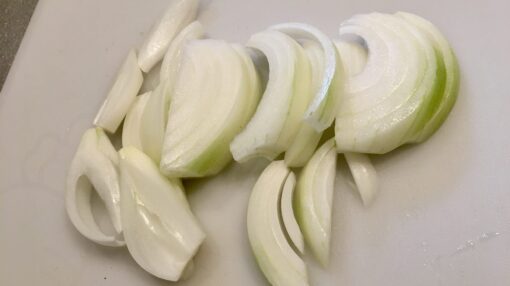 Cut the onion into 5mm slices.
3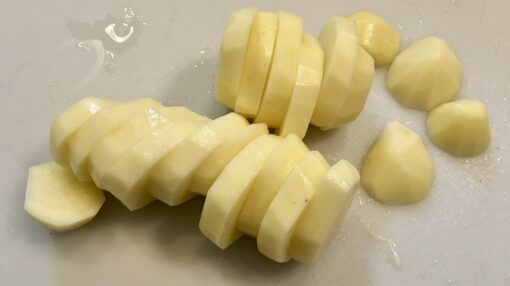 Skin the potato, and cut it into 5mm slices.
4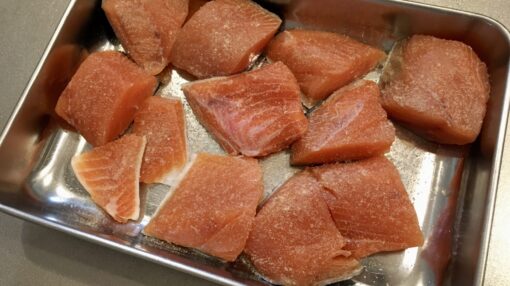 Get rid of the bones of the salmon, and cut into small bite-size pieces. Season the salmon with 1 pinch of salt and a little of white pepper (not included in recipe), and leave it for 10 Minutes. Wipe off the moisture from the surfaces.
Sauté the ingredients
5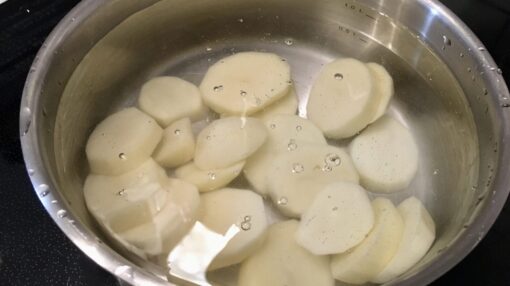 Put 1000g water and 10g sea salt. Then add the potatoes. When it comes to a boil, turn the heat to low and cook for 6 Minutes.
6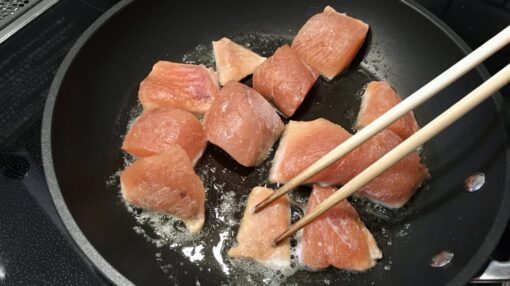 Put the butter to a frying pan. Sauté the salmons. Start to sauté the skin of them until they are crispy on medium-low heat. It takes about 7-8 minutes.
7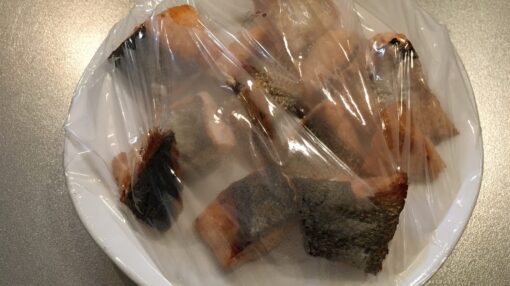 When the both sides of the salmon is golden brown, and let it cook till the salmon is cooked through. Remove them from the pan to a plate. Cover it with a plastic wrap to prevent it from drying out.
Make a white sauce
8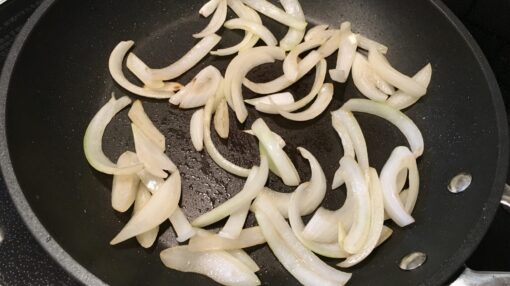 Wipe off the frying pan. Put the olive oil, and sauté the onion with a little of salt on low heat until translucent. Don't burn it because white sauce will be brown.
9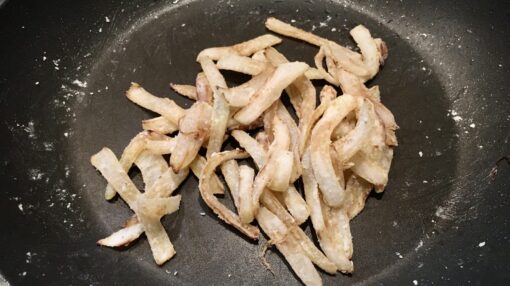 Add the rice flour, and stir fry until they are good combined.
10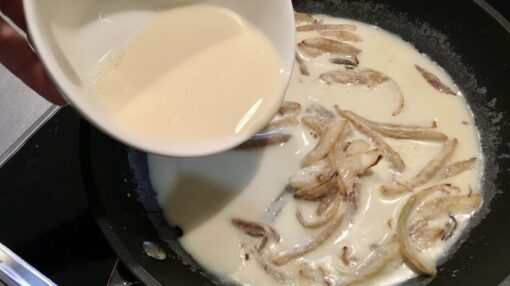 Divide the soy milk in three, and simmer it on medium-low until it turns thick. It takes about around 5 Minutes.
11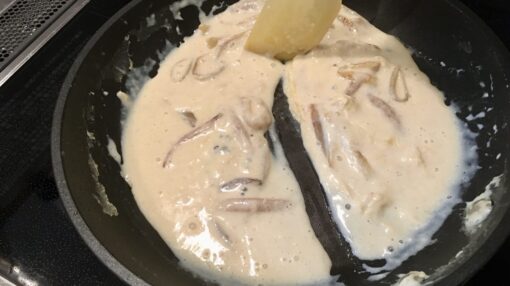 Season sea salt, miso and some freshly ground black pepper. Simmer it for low heat for about 2 Minutes. When you slide your spatula on the pan, and the sauce is not returned easily, it's done.
Cook the salmon gratin
12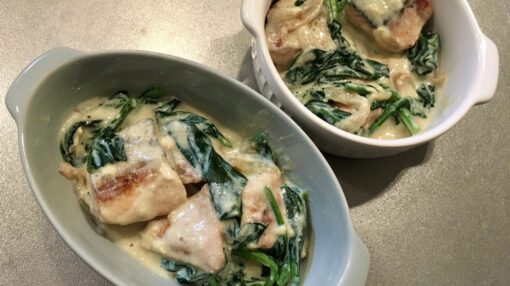 Preheat the oven to 250 degrees. Put half of the salmon and boiled spinach to 2 individual gratin dishes. Then add half of the stew.
13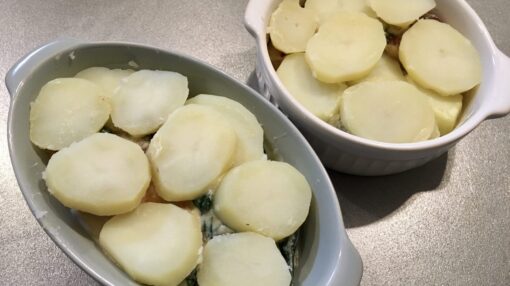 Place the whole boiled potato in each dish.
14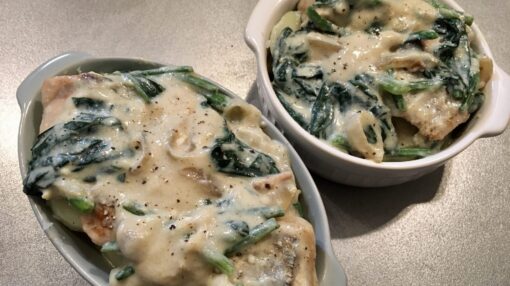 Put the rest of the salmon and boiled spinach, and add the rest of the stew. Then sprinkle some freshly ground black pepper, and
15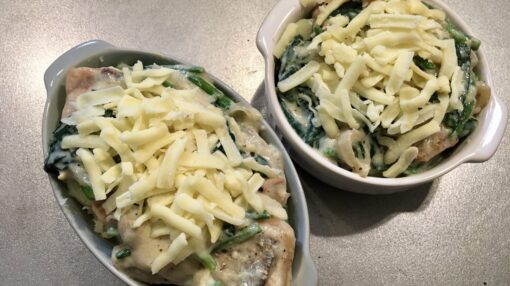 Add the shredded cheese on top at the end.
16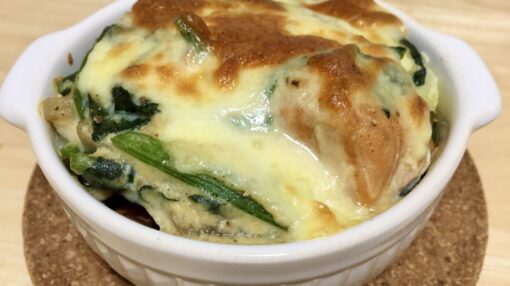 Cook it in the preheated oven for 10 Minutes until the shredded cheese turns a baked color.