As a winter meal, I tried the onion soup gratin recipe. It's a point to cook the onion slowly, the sweetness and rich flavor make the soup delicious.
Prep Time10 mins
Cook Time49 mins
Total Time59 mins
1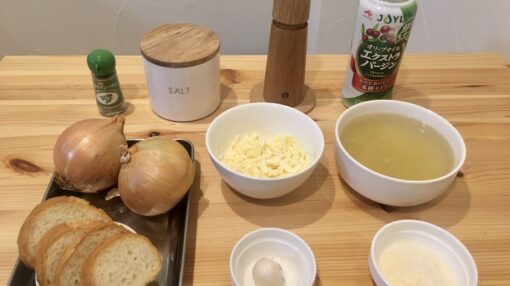 Prepare all the ingredients.
Prepare ingredients
2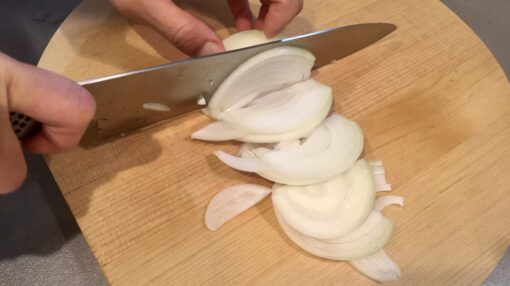 3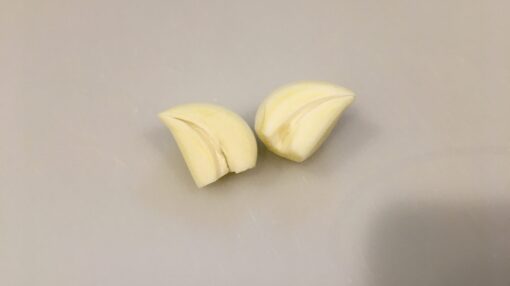 Cut the garlic in half, and remove the skin.
4
Stab the garlic with a folk, and press it on 4 sliced bread to add the flavor.
5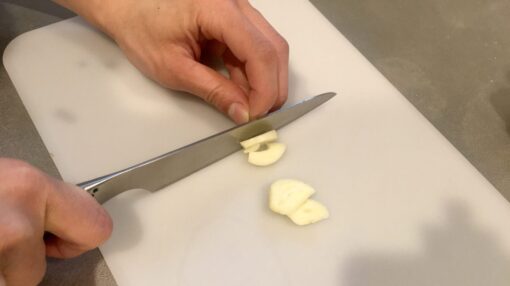 Slice the garlic, and set aside the garlic to use it later.
Sauté onions
6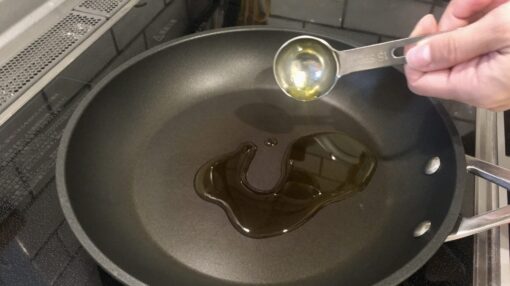 Put the olive oil, and heat it up on medium heat.
7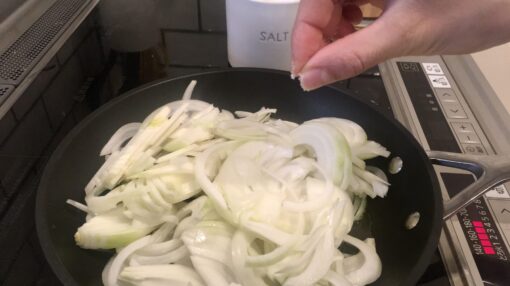 Sauté the garlic and the onion with a pinch of salt.
8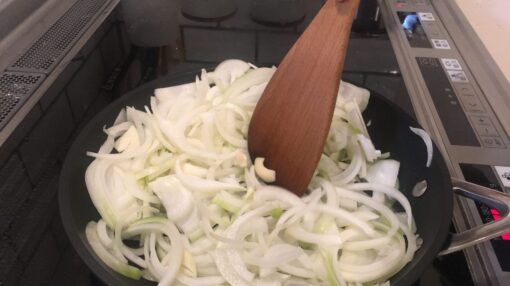 Mix the onion to be coated
9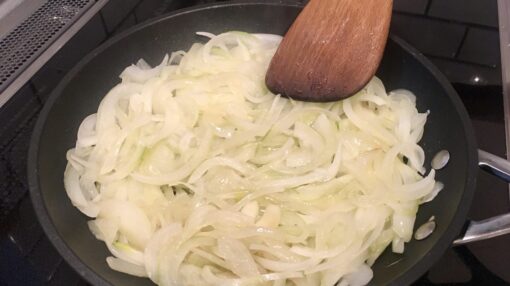 Make the onions flat, and cook on medium heat. Sometimes stir it with a spatula, then extract the water.
10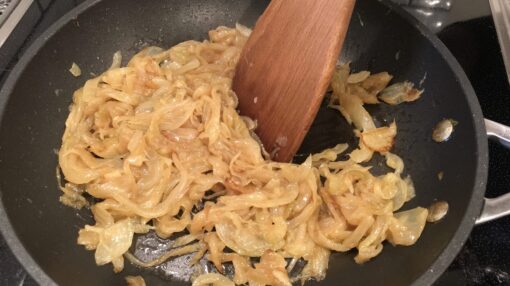 When the onion has light brown, reduce the heat to small medium heat not to burn, and continue to sauté it for about 40 minutes in total until whole onion are brown by repeating the step of 9. Once the onion becomes brown, stir it frequently, and be careful to burn.
11
Make sure that the onion becomes brown, and proceed to the next step.
12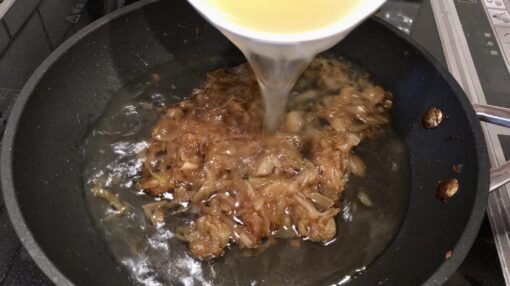 Add chicken broth to the pan, and bring it to a boil.
13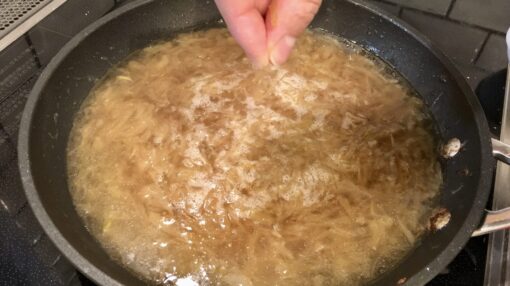 Season with sea salt, and let it cook on low heat for 3 minutes. Taste it, and adjust the taste.
14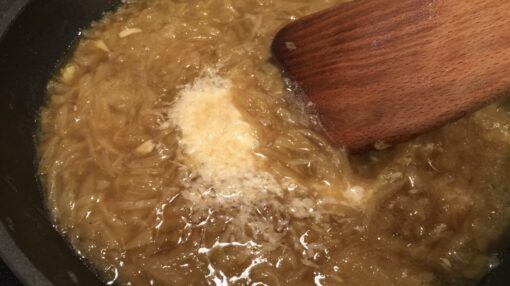 Turn off the heat, and add Parmigiano-Reggiano. Then mix them.
15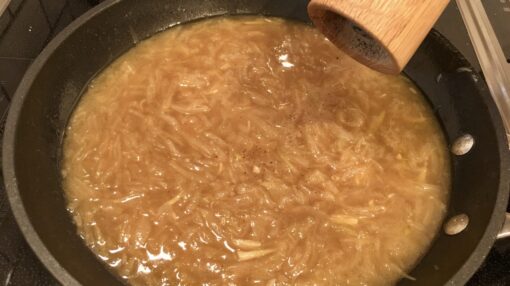 Add ground pepper at the end.
Bake the onion gratin soup
16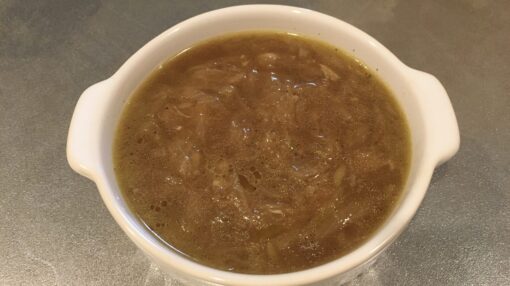 Preheat an oven to 200 degrees. Pour half of the onion soup in each heat‐resistant container.
17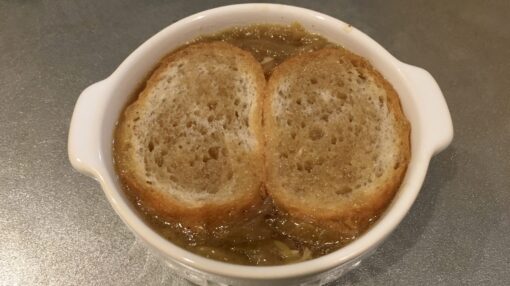 Add 2 sliced bread, and soak in the soup.
18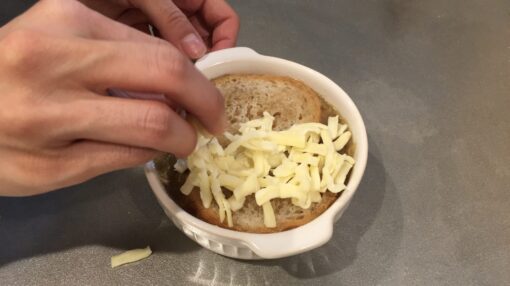 Add the shredded cheese on it evenly. Spread the cheese not to focus on the middle. Adding the cheese evenly, the tase is good harmony with bread and onion soup.
19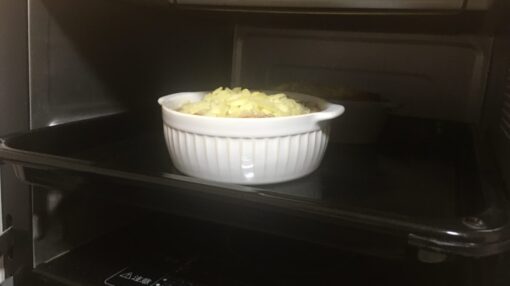 Cook it in a preheated oven for 6 minutesuntil the cheese is browned. On the way to bake, change the direction of heat‐resistant container to brown all the sides of cheese evenly.
20